In their recent review, Tech Advisor has awarded 4.5 stars to the new MiRiDER One (2021) model, one of the highest ratings for an ebike!
Jim Martin was one of the first people to get his hands on the new model and he was not disappointed.
"You'll be hard-pushed to find a better, lighter model at this price".
Jim was pleased to see the addition of the new lighter wheels and more-efficient motor. Further more the new anti-fatigue grips certainly improve the rider-experience. He goes on to make it clear that the MiRiDER one is the perfect commuter bike, saying that "even in the depths of winter when I ended up testing it out, it proved itself on a commute to the office. All the effort was taken out of the short but hilly journey to the train station, it was easy to fold up and stow on the train".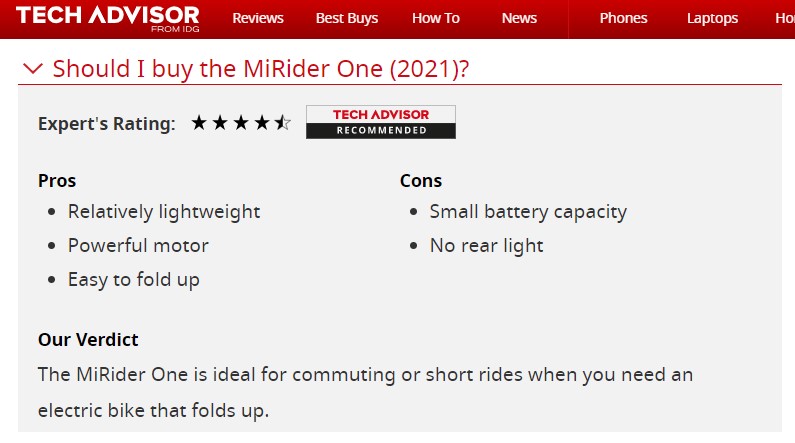 Jim Martin really struggled to find anything bad to say about the new MiRiDER. It feels powerful and, despite the 15.5mph law-mandated top speed, makes it surprisingly fast to cover short distances, and once more it's great fun to ride. You'll also have a smug look on your face when you whizz past lycra-clad cyclists on hills.
Overall the Tech Advisor team's review of the MiRiDER One 2020 was very positive: " The Verdict: A definite improvement on the 2020 model, the 2021 MiRiDER One is a bit lighter, more powerful and has a range of other subtle tweaks that make it a great choice".
You can read the full review here.
Don't forget to check us out on Instagram and Facebook for all the latest MiRiDER information. #MiRiDER2021 #goelectric