Another great review from Tech Advisor for the MiRiDER One 2020.
Jim Martin put our bike through its paces looking at everything from ride-comfort, to ease-of-use and battery range. Jim was particularly impressed with the fact that when folded, it will fit in the boot of a hatchback car and won't get in the way when waiting at the station.
"you will surprise a few car drivers with your 0-15 mph time"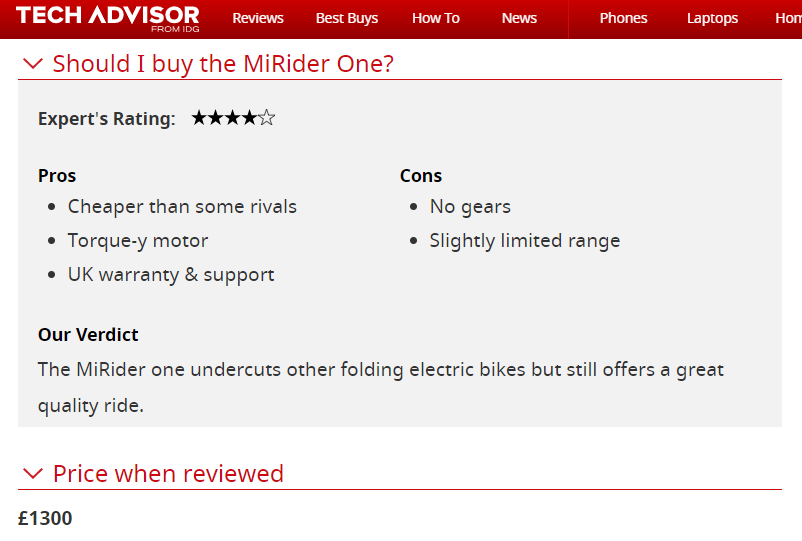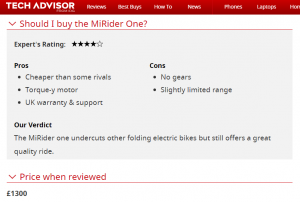 Jim was pleasantly surprised with the acceleration of the bike when setting off at traffic lights. He said that when using power mode 5, you may well end up surprising a car drivers! He also enjoyed how smooth the power delivery from the motor was, saying; "There's none of the horrible – and frankly dangerous – surge that you get with some electric bikes".
Overall the Tech Review team's review of the MiRiDER One 2020 was very positive: "The Verdict: The MiRider One undercuts other folding electric bikes but still offers a great quality ride".
You can read the full review here.
Don't forget to check us out on Instagram and Facebook for all the latest MiRiDER information. #MiRiDER2020 #goelectric