Emerging on the scene with its debut model only very recently, folding electric bike label MiRiDER has made a fast impression on those with a trained eye on micro-mobility. Chris Keller-Jackson visits the firm's UK assembly plant to learn more about this market newbie…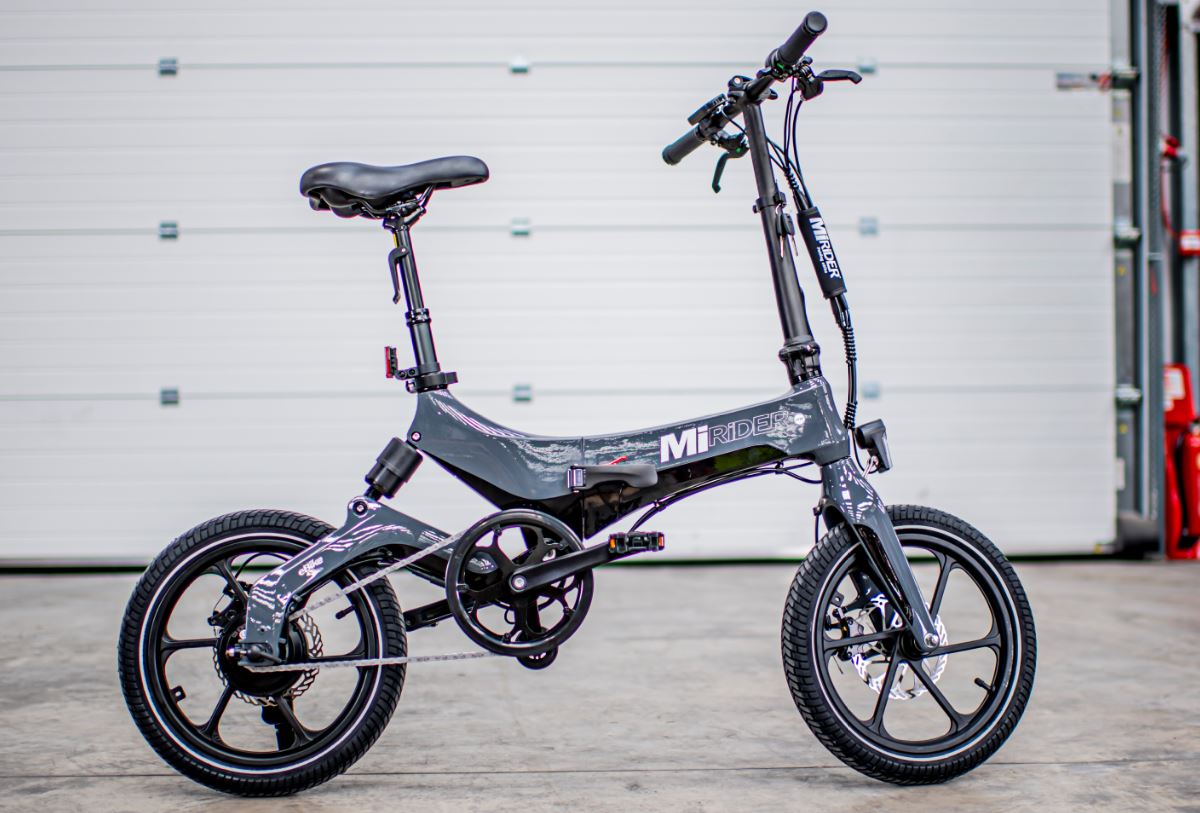 It's impressed on me from the very start of my time with MiRiDER that fun is at the heart of what happens here in a warehouse somewhere in Lancashire, within sight of the vast Heinz food factory. The KLF once sang "It's Grim up North", and whilst that is true for some of the hinterland that sits behind the Lancashire coast, this area is quite appealing with Liverpool, Preston and Manchester all within easy reach. So is this coast with the Victorian era pleasure palaces of Southport, Blackpool and Morecambe – some of which are now sadly past their best.
The coast is within easy reach, and whilst we did not demonstrate this on my visit to MiRiDER, this is the route they use to test their bikes, on a lumpy route to find some fish and chips, and to ride those of others to baseline the capabilities of this startup's e-Bikes. The team here call themselves 'startup's' but as I stare round this vast warehouse, there is little to this venture that screams 'shoestring', 'lacking investment' or a 'massive risk'. Partly this is due to the stock sat in the warehouse, but more it's the way the team confidently speak about this opportunity, where they are and where they came from. I'm impressed by the restraint and by the aspirations of this self deprecating crew of Pie Eaters. This place is classed as Wigan, after all – disappointingly there were no pies on offer during my visit.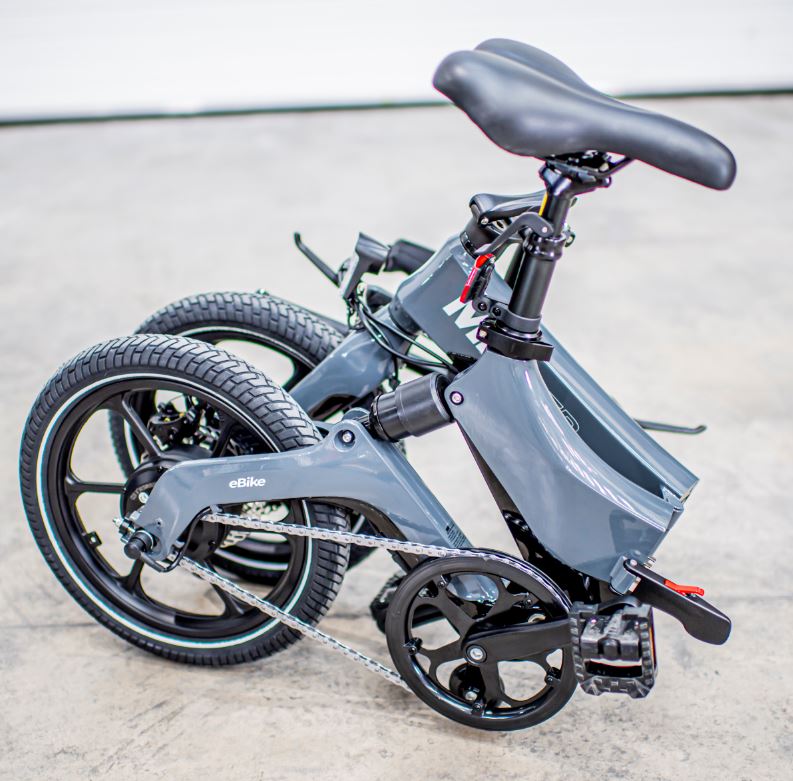 The Higginson family behind the brand won't shout about it, but this is not their first rodeo, with successful businesses in car security, decorative lighting and waterproof electrics solutions, the warehouse is packed with stock and movements of goods during my stay. It's a well-oiled machine supplying many big retailers and this is the thing, for a 'startup' they really have the means of trade already set up. Logistics, marketing, customer services and call handling are already embedded within the culture of the business.
Mark Higginson, the Managing Director cuts a more reserved figure than I had expected; he's pragmatic about the brand, about their aspirations and about how much funding this has taken. He comes across as more of an investor / mentor to MiRiDER, chipping in to the conversations and admitting he's probably more of an inventor at heart. Two of his businesses are highly inventive and in another life I'd see him as a charismatic pitcher on Dragons Den. In reality, with his undoubted success, he'd probably be sat on the other side of the pitch.
It's another of the foursome I meet that is the key to this product's success – Andy Birch – who is Product Development and Procurement Manager. These two roles don't always sit well together as there can be conflicts of interest, but I can see his skillset being very appealing. As Andy opens up, I learn some interesting facts about his past, an Aerospace Engineer, spending over 20 years in logistics and procurement in the aerospace, automotive and electronics industries with many years dealing with manufactures in the Far East. Along the way he's dabbled in RC Car racing and Cross Country MTB racing. He's passionate, qualified and experienced to head up the development of this product.
We get to where the bikes are being assembled and something else strikes me – this is cellular manufacturing (a component part of the Toyota Production System), it's on a small scale at present, but they are developing processes, operational manuals, workstations with only the right tools, torque wrenches and everything you'd expect from a lean manufacturing approach to production – that for a startup producing a folding electric bike in the UK is impressive. Andy also mentions ERP stock control, bills of material's and a Kanban approach – he knows what he's talking about.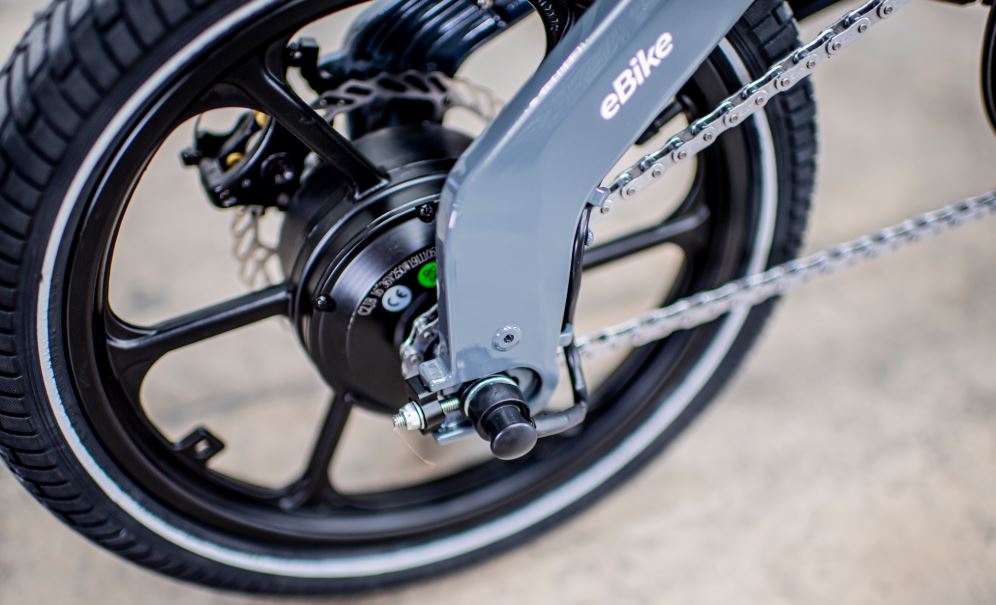 I'm walked through the process and some of the parts by Andy and the team. When the frame arrives from the supplier, it is quality inspected and all the alloy bolts, nuts and washers removed. These are replaced with quality stainless fastenings and Nyloc nuts and torqued to the correct amount at the workstation. Whilst the team felt what arrived from the supplier was acceptable, they wanted to ensure better quality from the outset, disassembly down to a bare frame also helps to ensure quality is inherent from the ground up. The rear chain tensioners have been CAD designed in house by Andy as they offer better adjustment and quality of materials than any off the shelf units. The aerospace grade magnesium frame and fork are key to keeping the weight low. As they build up a bike they only add quality items, specially sourced and sealed BB's, a KMC e-Bike chain, Clarks brakes and an interesting take on speed controllers.
Head units are the fairly standard affairs seen in good quality e-Bikes, but the normal spaghetti like wiring loom is gone, back to his aerospace roots, Andy has worked with their speed controller supplier and developed a Canbus, black box solution that has only four connectors. Everything is IP68 certified (waterproof), with handed aerospace grade Higgo connectors; the enclosures are finned to dissipate heat. This makes assembly a simple and straightforward task. Andy even has a hand in the programming of the controllers, and has helped develop a 'torque simulating' component of the software, making power delivery when setting off more natural and responsive.
The nature of the cellular approach to assembly also offers a level of customisation to delivery. Still in its early phase of development, one of the workstations had a different build than the standard MiRiDER One, with chunky lugged tyres, mudguards, different wheels and other configuration items. A level of customisation they think will be offered soon, this one designed for more gravel, low grip surfaces such as a towpath.
There was also a yet unnamed variant of the MiRiDER folding electric bike, this with a much higher specification, a torque sensing BB, an OLED head unit, lighter wheels and tyres, carbon seat post and handlebars, lightweight folding pedals etc. I got to ride this prototype and it certainly shows the art of the possible, much lighter (the One is no heavyweight) and very responsive from the off. As a commuter this would be ideal as it certainly packs an acceleration punch from a set of lights right up to the legal limit. The team are considering the use of a belt drive for this model. MiRiDER are keen to point out that this is designed and assembled for the UK market, current legislation, and for UK weather conditions. This is no boxed up import with no pre-delivery inspection or customer support. The team were also keen to point out their bikes are sold with a two year warranty, a bold statement of the quality of their product indeed.
This facility is starting very small, with 300 units of the folding electric bike out there already, and only a couple of dedicated workstations. I quiz Mark Higginson about scaling up, and he's sanguine. One of the advantages this team has is space, and access to the logistics of support. Floorspace is limited but he says as things grow, they'll 'just put a mezzanine in' – given all the rack space already in the warehouse I'm certain he has ready access to the right teams to support his lofty (sorry for the pun) ambitions. He admits they want to get the processes in place to support the business before ramping up production, but says it's a nice challenge to have when the demand arrives. This approach builds in quality from the outset, and should help keep that control as demand increases.
To the subject of demand, and what his ambitions are for MiRiDER. Higginson wants to deliver a trusted, quality e-Bike brand for the UK market, with dealer and direct support, a spares and repairs backup and products designed for longevity, not as a fad or throwaway product. He sees that as a failing in some of the current market offerings and wants better for his customers, fun being a big part of this ethos, with minimal setup time before a rider can just go.
Part of his five year plan is to learn more about the market, grow the brand and move into other areas of e-Mobility as opportunities arise, but using the same base operating model – not just buying units in from the Far East. Mark also believes that a dealer network is vital to support his ambitions and support his customers, asking anyone interested in the brand to get in touch to further expand the network which already has 30 dealers and is growing daily.
MiRiDER are looking to expand their presence in the market by appearing at several of the UK Consumer shows this year (UK E-Bike Show, London Bike Show and the London E-Bike Festival), having had some considerable interest following an appearance at the NEC Bike Show in 2019.